Judy is my final guest poster for depression awareness month. She wrote such a great post, and was even willing to share her own story dealing with depression. I feel like this is what this month should really be about- knowing you are not alone. Depression is something that affects so many more people than you'd realize in your day to day life.
It wasn't long after the passing of my paternal grandmother that I dealt with depression. I was devastated over the family loss, yes, but her passing was the icing on a cake that was already leaning sideways and about to crash to the table.
I went to the doctor complaining of headaches with nausea, and a lack of sleep. I was obsessed with weight loss but had an inability to curb my eating. I was always irritable and felt socially inept – my moods could change in an instant. My doctor prescribed Zoloft, and I started to see a therapist. I got better over time, and learned how to manage certain people, and handle certain situations. I suffered from depression.
I haven't been on an anti-depressant in years, but I have been treated for some anxieties that I still suffer from today. There are so many nights when I need help falling asleep and I reach for the bottle of ZzzQuil because I lay in bed and worry. I worry about things I don't worry about during the day – it's awful. I get a fiery feeling in the pit of my stomach. I also have a bit of social anxiety. I am terrified of meeting new people, even though when you meet me I'm outgoing. I have gotten very good at being outgoing when really I want to shy away from the intimidation of meeting someone and first impressions. I'm always worried that people don't/won't like me, or they are talking about me behind my back. I know in my rational brain that these things are silly, but that doesn't make the feelings any less real.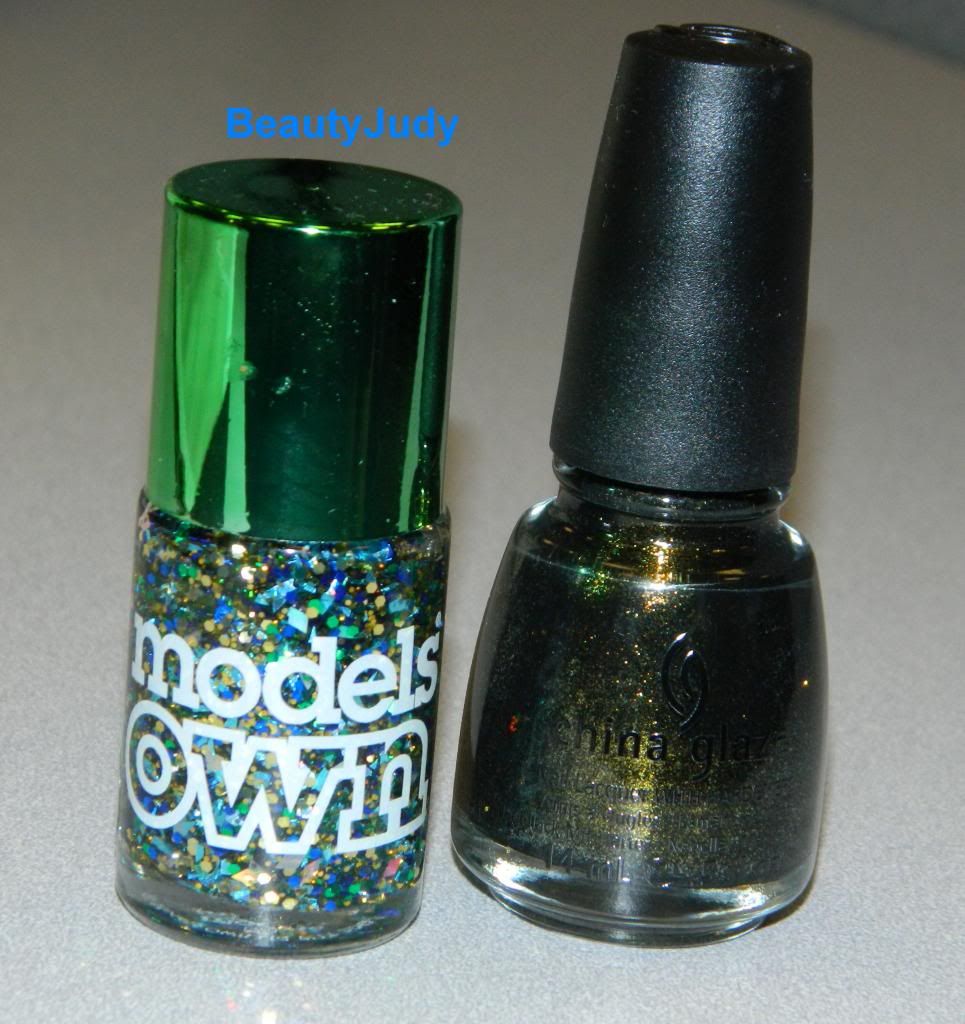 At the end of the day, despite all of this, I have always tried to maintain a half-glass-full outlook. Sometimes, that's not possible – we all have those days, right?! But that played a factor in the Depression Awareness Month mani that I wanted to share with you!
I did green, but with a splash of happy, bright glitter to remind me, and you, that there is a light at the end of the tunnel. That there are good days, too, that need to be cherished.
I used China Glaze Cast a Spell for the whole mani, with Models Own Dancing Queen for accent fingers. (As a total side note, I am loving the Models Own Mirrorball Collection!)
I have always lived my life by the philosophy that sharing one's personal trials and tribulations means you'll find someone else who needs your advice, or who can offer advice, but most importantly, someone who knows what you're going through. After I started treatment for depression in 2002, I wrote one of my regular newspaper columns about my struggle, and I received so much support and so many letters from readers (back then, we used to get actual letters in the mail!) that I knew sharing and shedding light on depression was the right thing to do.
So, thank you, Gia for bringing awareness to depression. Thank you for allowing me to share my story with you and your readers! I still know people in my life that suffer from depression – worse than I ever have – and those loved ones are always in my thoughts. XO
Thank you so much to Judy. I have met Judy in real life and she is a doll. Even if I'd never met her face to face I would say that. She has helped me before and is an all around great person. Be sure to peek at her site- BeautyJudy.com - she's filled it with so much great information and posts- you'll get hooked for sure!