Today I'm sharing a combo I loved with you.

I've been missing a few days... I had some things to take care of and things are getting better in my life!

I really like Chelsea polishes a lot. The quality has been fantastic in my experience. I wish they were easier to find though! That's my only complaint with them!

This polish is quite possibly in my Top 20.

Chelsea Morning Glories. A sparkly, dusty, light, blue. Somewhere between a foil and super micro glitter- more unique than my pictures can show.

It is beautiful on it's own: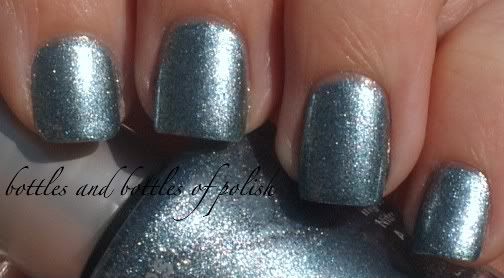 Old camera pictures again, I will get to new camera pictures at some point I promise!

I wanted to add to it though and use one of the designs from my XL Plates.




I don't remember how I decided to use WnW Nocturnal but I am glad I did! The design is from XL Plate A. I bought the XL Plates through Magnonails.

Do you see the sparkles of Morning Glories shining through the design? Perfection!

My guess is because I knew it was a very pigmented jelly. I added 2/3rds of a bottle of clear w/ the other 1/3rd being some of this. You could still hardly tell it was a navy blue polish.

Normally I consider a jelly to be a kind of sheer polish but w/ this one it is the lack of creaminess (in a good way) and amount of shine that makes me consider it a jelly.

Look at the darkness of it when it wasn't hit with the flash of the camera!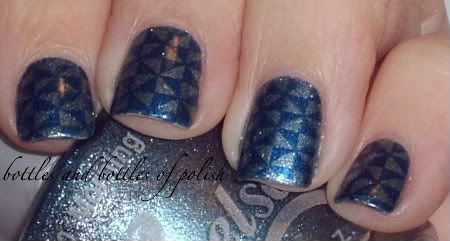 I really loved how this turned out and will use Nocturnal again in the future for konading! I bought a couple extra bottles of it when it was on clearance with the intention of frankening. I am so glad I did now but not just for frankening now! For stamping!

I mentioned that I planned to review the Sally Hansen Salon Effects in Here Kitty Kitty and I still will but I only managed to get a (terrible) phone picture of it. Like I said, busy week! They lasted 6 days. From last Saturday Morning until Friday night during my shower. A piece of hair got under it on my index finger and lifted it half way off. I have wore these 2 times now. Both times, I have found that they lift from the bottom and not the top. I read a review on Makeup Alley and someone sd they seal the edges with acetone. I will try this the next time I wear them and will do my full review then! :)