A day early for Wednesday post but I was excited! I said in my last post I would review the Sally Hansen Salon Effects and I still will but I was too excited about this post to wait! So look for the Salon Effects post soon! :)

A while back I found some China Glaze polishes in lots on ebay. I contacted the seller and she was wonderful and worked with me by letting me tell her which polishes I'd love to have and selling them to me as a lot.

When I got my lot in the mail, I opened them up and noticed that some of them I already had- under *different* names and with different logos on the bottles.

The polishes I received from her were renamed polishes from the Denim & Diamonds collection. I have all of that collection except for Diamond Diva *but* I have it now- under a different name!!!!! :)

I finally got pics of all the polishes today. It's confusing unless I go through it step by step so here we go!

The one I was missing from the Denim & Diamonds collection. In the Denim & Diamonds collex, the name is Diamond Diva. In this collex (which I don't know the name of) it is called Sole Searching:




look at this gorgeous, tiny, multi-colored, square glitter!




The next is Hug My Hips. I don't have the renamed one of this so I don't know what it is called in the unknown collex: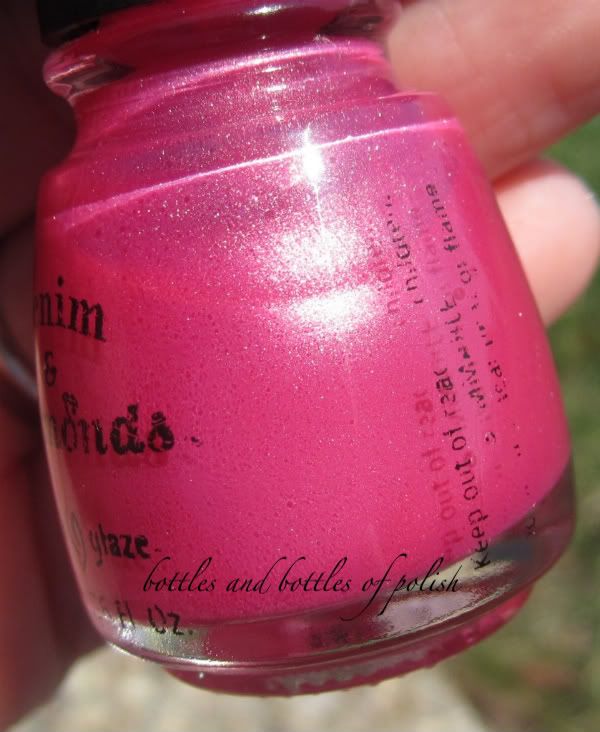 The next 2 are Bare-To-Wear and Below The Belt: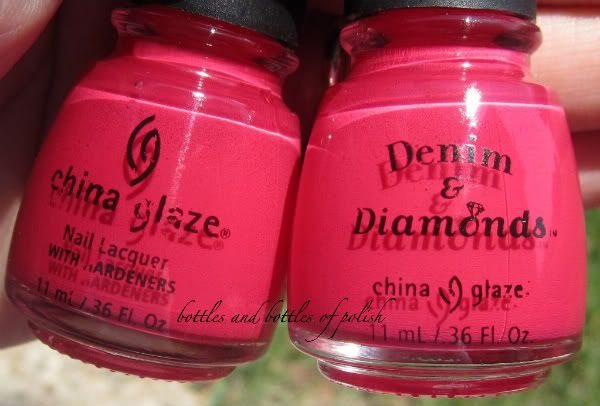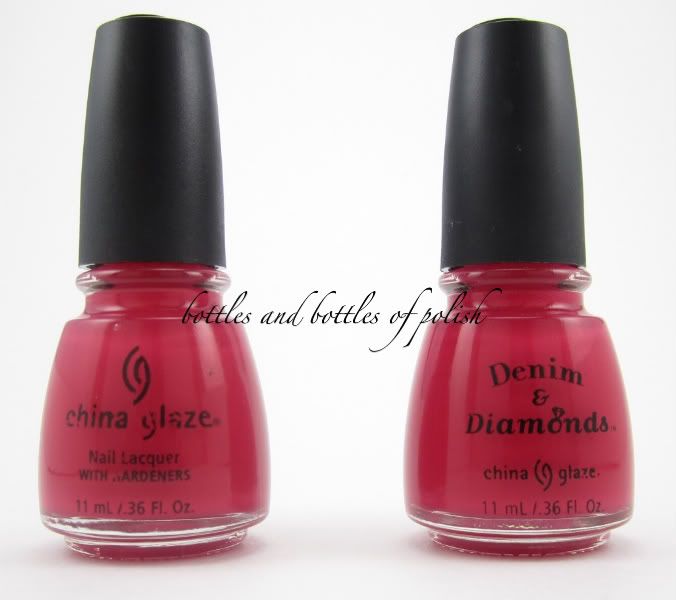 The next 2 are Soled Out and Tight Fit: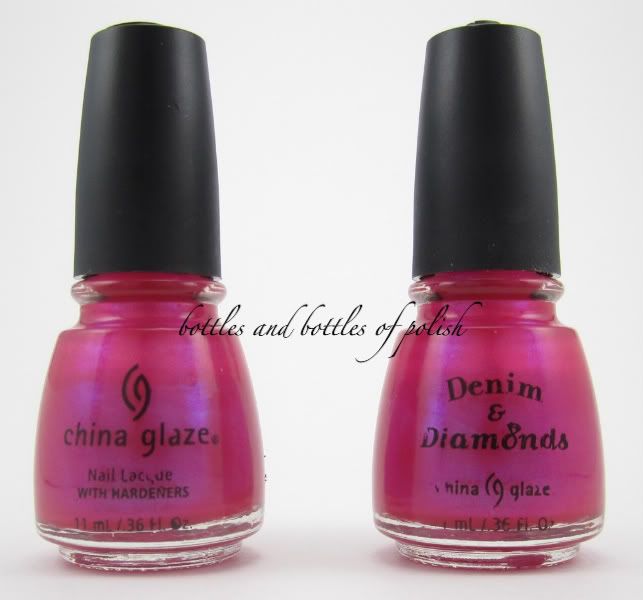 The next 3 I don't know the names of the polishes in the renamed collex, only the names of the D&D polishes.

This one is Stone Washed and until now we thought there was a polish called Sole Searching that looked like this as well. Now we know that that polish was mislabeled. Old China Glaze polish's labels are notorious for not staying on the bottles so what I would guess is that a store keeper had a loose label and a bottle without a label and put them together and so it was known as Sole Searching! ;D




Alizarineclaws was fantastic and let me show you her gorgeous picture of this polish! I really think her pictures are AMAZING! You can check out all her amazing pictures here & look:


This is 537 Blues (my pic doesn't do it justice at all, it have a gorgeous purple flash in real life):
Denim & Diamonds: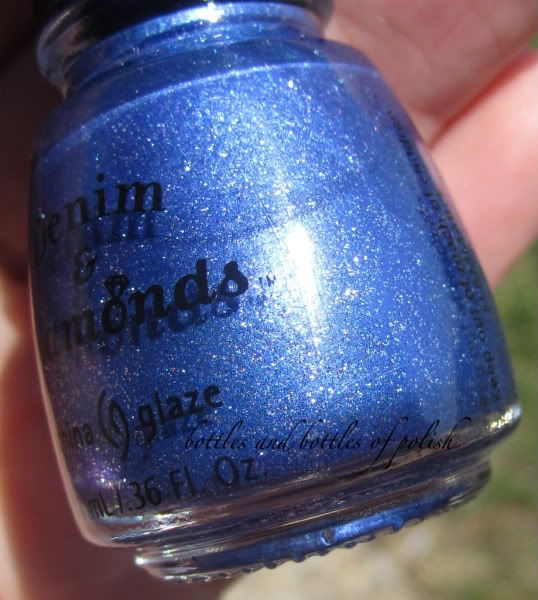 Toe Tappin' and Girl's Best Friend (if you look hard you can see tiny glimmers of green at the top of the D&D bottles and a bit on the side of the other bottle, those are a tiny bit more prominent throughout the polish in real life):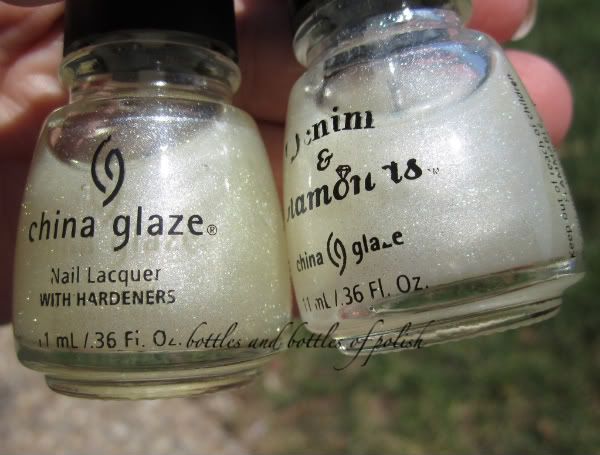 With the names of the renamed collex all having to do w/ shoes/toes... I don't know what to think b/c of the Babes In Toeland collex, kwim? so confusing! There are 7 Babes in Toeland Collections as far as I know and the ones with the type of codes that these polishes have are normally start with CGT### but the D&D collex codes are CGD### and the renamed ones are CGS###
Here's an example of what I mean:
China Glaze Fairy Godmother's number is CG
T
421 from the Babes In Toeland 5 collection called 'Glass Slipper'
Above, China Glaze Bare-To-Wear's number is CG
S
533 while Below The Belt from Denim & Diamonds is CG
D
533.
So. While the names of the renamed collection sound like they would be part of a Babes in Toeland collection, the pieces don't really fit.
If you have any information or memories of either of these collections, I would love to hear from you with any information you have. Maybe you remember seeing one of the collections in stores and remember what year? Or the name of the renamed collection? Or names of any of the other polishes from the renamed collection I don't have? Any info at all would be amazing! It will also be credited to you here and on the China Glaze Wiki site. :)
I have already contacted China Glaze but have not yet received a reply from them, hopefully I will but China Glaze was acquired by a new company in 2005 and they don't seem to have much information on polishes that were released before their acquisition of the brand so we may never know without sharing knowledge with each other! ;)
I hope you enjoyed these pictures!