On my birthday, I couldn't decide what I wanted to wear on my nails. I tried a bunch of different polishes, finally gave up and went for a manicure at a local small salon. I brought 3 vampy colors with me. She cleaned up my cuticles nicely (without cutting which is why I went to a regular salon instead of a nail salon) and filed them, which was what I really went for- I didn't feel like doing either myself.

The 3 colors I took with me:

Deborah Lippmann Maneater
Deborah Lippmann Lady Is A Tramp
Dare To Wear Marilyn Merlot

After I dug through their polish selection (literally- it was in a big wicker basket) I decided I would go with one of my own.

She swatched them on me and I went with the Dare To Wear.

I brought my own base coats and polish but forgot my Seche Vite :(

She used the big bottle of Beauty Secrets top coat from Sally's. The application left a lot to be desired and I planned on cleaning it up when I got home but... I waited and waited for it to dry - it didn't. I tried to be careful but more than an hour later is was still so wet that I messed it up.

So... I changed it.

I don't remember what made me decide to do this mani but I did really like it!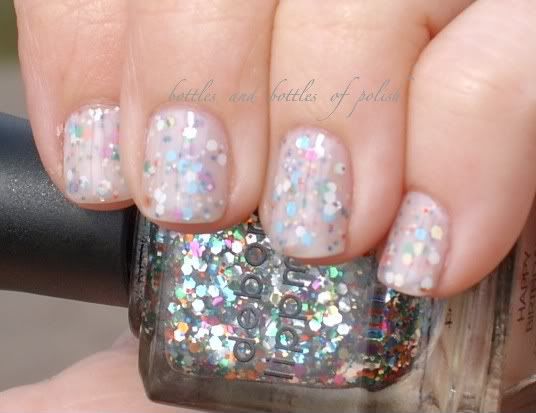 You'll have to excuse the small, somewhat blurry pictures... they were taken with my old camera.




I used 1 coat of Happy Birthday and one coat of Barielle Cherish *over* it. I got Cherish in a Barielle French Manicure Kit I bought a TJ Maxx or Marshalls for 5 or 6 dollars. Totally worth it for this one polish alone!

I love how the glitter is not blingy. I would just try sheer polishes you have over a glitter on tape until you find one you like over it. You don't have to use this one. I saw someone else do this with OPI Funny Bunny. I don't have that one but I figured with as many polishes as I do have, I had to have something that would do the same thing- and I did!