I've looked and I didn't find any other polish blogs doing this kind of posts on Wednesdays, so... since I love old polishes, we'll see how long we can keep this going.

This week I am going to show you 5 of the 6 Aroma Cafe polishes from China Glaze. This was their collection for the fall of 2002.

The only one I am missing from this collection is the top coat. I will try for swatches eventually but hopefully, you don't mind some bottle spam for now! ;)

I did swatch at least one of these and if I am remembering correctly, the formula was really good.

With Cream, Please!




I'm A Special Blend! (I'm sure at some point, I could have a witty comment for the name of this polish but one's not coming to me at the moment!)




Must Have Mocha!




Choco Chocolate




Xpress-Ahh!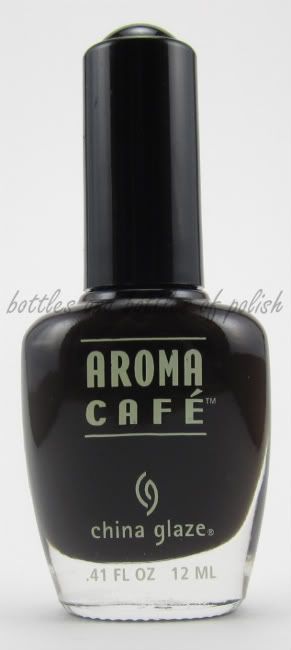 These don't smell as much as I imagine they did when they were first released, With Cream, Please! you can still smell the most. The formula is so nice though that I don't mind and am so happy to have these! :)

China Glaze said to think of this collection as "Starbucks" for your nails. haha!

Hope you enjoyed the pictures!

**List in the comments other way back polishes you'd like to see- name as many as you'd like, I'll let you know what I have and work on posts for the ones I do!!!