These little guys are just too cute...

There are price tags on them b/c the one(s?) I tried to take off to all the print on the bottle off with them! :/ Hopefully I can soak them off while keeping the print.

I haven't been doing many swatches lately but I'll have plenty of time for that soon, when school starts! Until then, more bottle pictures!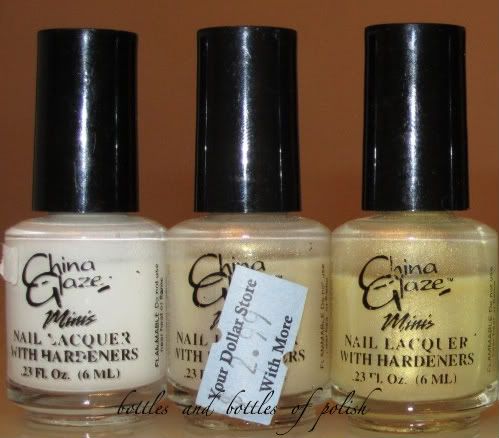 White On White, Mauve Shadow (does mauve really have anything to do with this polish??), Fantastique (shimmer city- we'll have to see if it turns into frost city when I swatch it!)




Crocodile Lounge (!! long time lemming !!), Bing Cherry, Drastic

I took these pics a while back one evening just playing around so not the best quality but look how cute these little guys are! (did I say that above? yes? I can't help it! Look at them!)

I got these in a swap from a girl that found them on clearance at a random dollar store- why can't I find dollar stores like these????

I don't know when China Glaze released these. They are old enough to say 'Do not shake Roll upside down between palms' on the bottles.

If you remember seeing these (or any polishes I ever mention here) please let me know anything about them through comments or emails! Thanks!