In my opinion.

Some of my pictures did not come out how I'd hoped but you live and learn!

I'll start with Jessica! :)




Do you see what I see? I'm thinking this *may* be a Gosh type holo! I can not wait to try it out and show you! Disco Diva is the holo and it comes with it's own special base coat.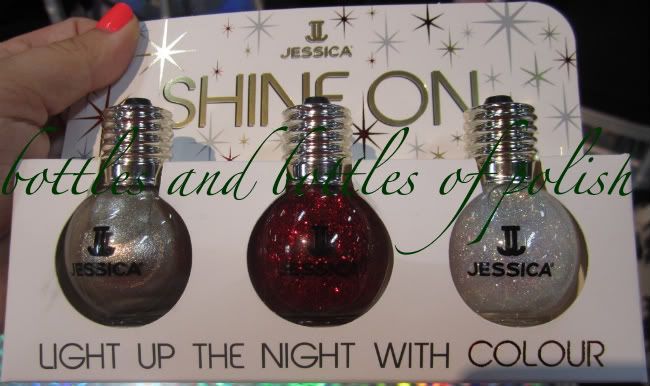 Next, the light bulb bottles are back! Yay! I'm completely smitten with the red multi sized glitter in the middle. The other 2 are gorgeous too. I had to add some green to the picture since I'm sure these are the holiday collection!

Next, Dare To Wear Crackles. Yes. I. Know. Everyone has crackles and a lot of people are tired of them! *BUT*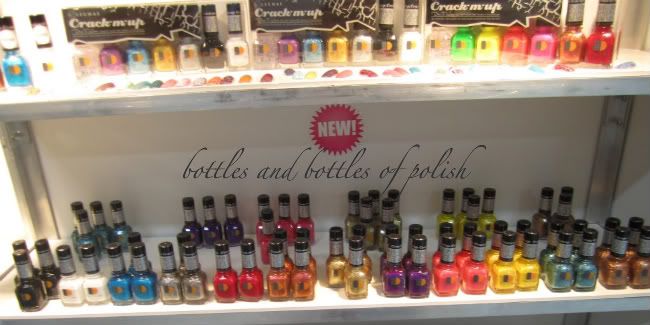 do you see the one between the red and the gold? DUOCHROME foil-y crackle! I'll take that one, please!




I was told by a lady at the China Glaze booth that these were not scheduled for release until 2012 but have read other places that they will be released in November (yay!), China Glaze's Eye Candy 3-D Glitters.




While I'm not huge on glitters, there are some I love and I have been loving them more lately. I can not wait for these though, Especially "Some Like It Haute"

Yes, I know I showed some of these in my last post, but I couldn't help but include them again.

Last up for this post? Essie.




Glitters, flakies and pretty top coats? Thank you. Also, I don't remember all of the ones I was told would be around for at least a year, but- the flakie, it will be for sure!!! It will be in the retail core line for at least a year!

One more thing before I go to work on my next post - (beauties from Cult Nails!) I have started to decided on my giveaway for when I reach 250 followers! One polish that will be in it for sure, a brand new bottle of China Glaze OMG. I will do a full post about the giveaway when I get all of the goodies together!