Last week I put a poll up to let my followers decide which polish would be featured in this week's way back post.

This was the winner! I have the regular square bottle of it. I bought it at TJ Maxx probably 3 years ago. Sky was sitting there too and I passed on it. Regret! I have the new version now but if you can't tell I have a thing for old polishes! haha.

This is 2 coats over 1 coat of Gelous and no top coat. The first coat went on really well. The second coat didn't go on quite as smoothly because it kept trying to pool at the tips and leave bald spots at the base. Not the worst application I've experienced with a polish. It could have been that I just needed to add a few drops of thinner. It was close to needing a third coat- it wouldn't have hurt for me to add one but with the little bit of hassle the second coat gave me, I skipped it and it still turned out well. Please excuse my dry, tore up cuticles - I am trying to get them back in shape, I promise. Cooking for Thanksgiving really wrecked them!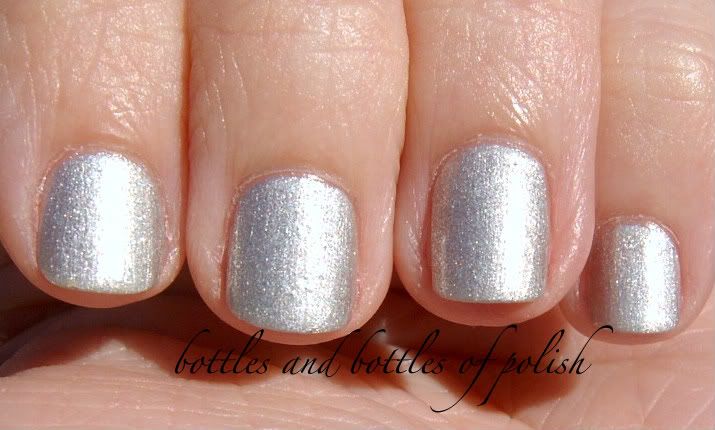 I didn't use a top coat because I felt like it was pretty in it's own way... it had a bit of shine to it. I really liked it more than I thought I would once I swatched it.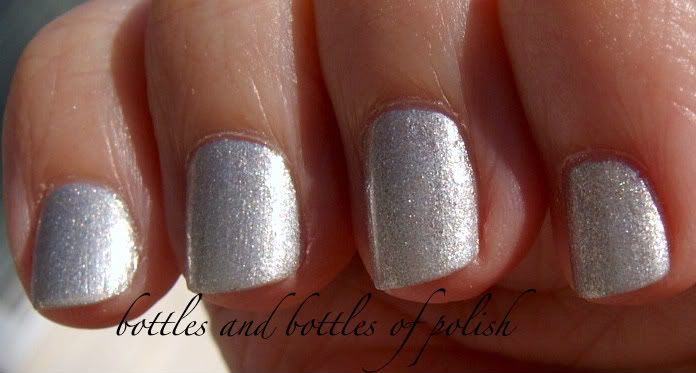 A lot more than I thought I would actually. It's not the 'in your face' blingy type silver but it's still definitely a silver shimmer. I'm not sure how to explain it! I've sat here trying to find the right words with no luck. I really like they way it looks in the shade and normal indoor lighting. A little dark as it curves with your nail.

Now I have the polishes to pick from for the next Way Back Wednesday:

China Glaze Coral Reef

Creative Nail Design Limelight

Maybelline Button Fly

Sally Hansen Sonar

Toma Disco Glow Red-Gold Glow

Please let me know which one you'd like to see most in a comment below :)

Thanks so much for voting, looking and following!