Let me start off by saying that I'm always fighting with my cuticles and because of this, I'm always looking for a better way to remove them. Out of determination desperation, after a friend mentioned she was really liking the Deborah Lippmann Cuticle Remover, I looked up reviews, found very few, but the ones I found were good.
It's $20 and I don't like to spend that kind of money on much of anything. I had a $5 coupon for Beauty Brands, plus a 10% off coupon. That took it to right under $15 after tax- the lady didn't ring up my 10% off coupon 1st and it cost me 50 cents... yes- I just mentioned here that I was disappointed over 50 cents, if you knew me, and I as I continue posting, you will come to see that's just how I am... almost always... (fyi: all pictures in this post are from my phone) This is what it said on the side of the box:
I liked reading that first line- they knew that would get us, didn't they? ;)
So... between: having the coupons, reading good reviews, hearing a friend say first hand that she liked it, liking so many Lippmann polishes and reading this on the side of the box, I went ahead and decided to give it a try.
I went straight home and went to work. Here's the top of the box and it's contents:
It came with a normal polish brush, I really liked that and never used the dropper.
While there was no wow moment I hoped for/expected from a $20 cuticle remover, I wasn't sure sure how I felt about it yet after only one use.
About a week later I sat down to clean them up again. As I was doing my index and middle nails on one hand, it seemed pretty harsh. It seemed that it would easily remove layers of my nail as well as my cuticles. Not good. So on my ring and pinkie, I used what I always seem to go back to, the Sally Hansen blue bottle- you know- this stuff: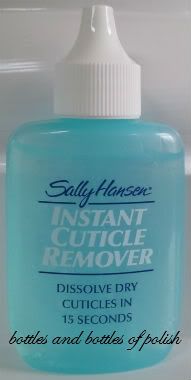 For me, it definitely won out. It removed the cuticles without trying to take any nail or skin with it. On a couple nails I had to add a bit more remover and let it sit an extra minute to get everything but they came out great.
I'm returning the DL remover. I don't like returning things but this time the price is too high for something I am not going to use again.
Other reviews I've read have been good, so maybe it's just me. Maybe my cuticles are too stubborn to soften up fast enough for this remover from the years of getting gel/acrylic (I'll explain in a soon to come post) nails and of doing dishes as a waitress with bare hands. In an upcoming post, you'll see the results of using the DL remover on my index and middle fingers- I almost don't want to post but I also don't want to redo all that swatching!
I know a lot of girls use the Blue Cross Cuticle remover but that is something I haven't tried yet.
Now my questions for you because I love to pick brains of others interested in things I am interested in:
What cuticle remover do you use? Do you love it? Did you try others before it, if so, which and what made the one you use now the winner?
For those of you that use the Blue Cross, if you have used the Sally Hansen I posted above, could you tell me why you like the Blue Cross over the Sally Hansen?
I love conversation so please comment if you have anything you would like to say!
We are all here for our love of polish and I'd love if my posts were used as the starting point for discussions and ways to learn from each other. I hope this idea excites some of you and you decide to share your opinions here!
Thank you for reading my posts, it means so much to me. I hope you're having a good day. If not, I hope it either gets better or that tomorrow will be. I've had a lot of not great days lately and even though I know there are so many others that have it so much worse, it can be hard to tell yourself that when you are overwhelmed, stressed or just down, -hugs- to everyone. :)