When I was trying to decide what polish to feature in this post, I couldn't believe I hadn't shared this manicure yet- it made deciding very easy!

It's hard to find information on Chelsea polishes and I can't really tell you much about them except that the formula is always amazing and they are an older brand. If I find out more, I'll be sure to share it with you!

Chelsea Psycho Green is a huge favorite among it owners and highly wanted polish of long time polish lovers. Once I wore it, I completely understood why! It is a dark, beautiful green with a hidden shimmer that sets even further apart from other greens in this category. You can see the shimmer in the bottle in the picture below.

This is one of my favorite combos. I couldn't get good pictures of it, it was cloudy that day, and the camera I had at the time would only play nice in the sun! I managed to get one decent picture with my OTT light.

I used Chelsea Psycho Green and China Glaze L8R G8R from the OMG collection for the konad with a design from Konad plate M78.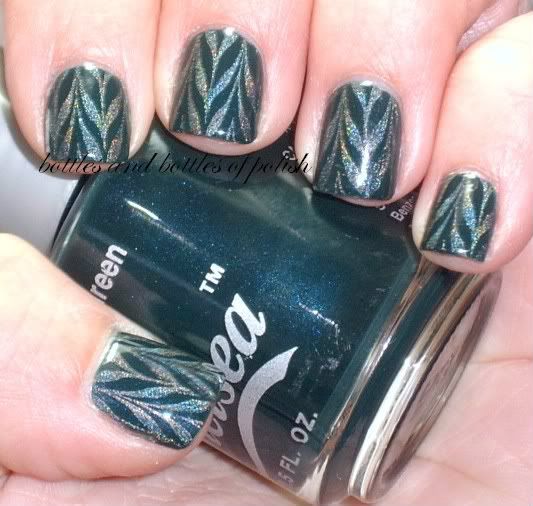 Which brings me to my giveaway. This giveaway is just for fun and my first one!
For this giveaway, you need to do 2 things:
-Make your best guess on the
exact year
this came out
in the comments section of this post (Don't be scared!!! Pick a year, type it in & hit send- remember- you miss 100% of the shots you don't take!;)
: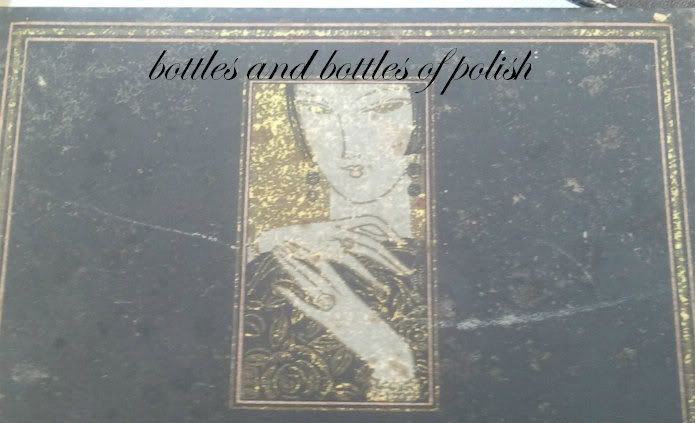 To be fair, I cropped off the words on the box. I will show the full picture next week when I show you all the nail goodies that were inside it when I found it.
-Be a follower of or start following my blog.
Rules:
-Guessing will end at 10pm CST Tuesday May 8th.
-Only 1 guess/entry per follower.
-Due to postal regulations, only US shipping only at this time. I will look into other options for my international readers for my future giveaways!
-The winner will be whoever guesses closest to the correct year. I will use a randomizer in case of a tie.
There was one more reason I decided to feature Chelsea Psycho Green as today's Way Back Wednesday polish-
it's part of the giveaway
!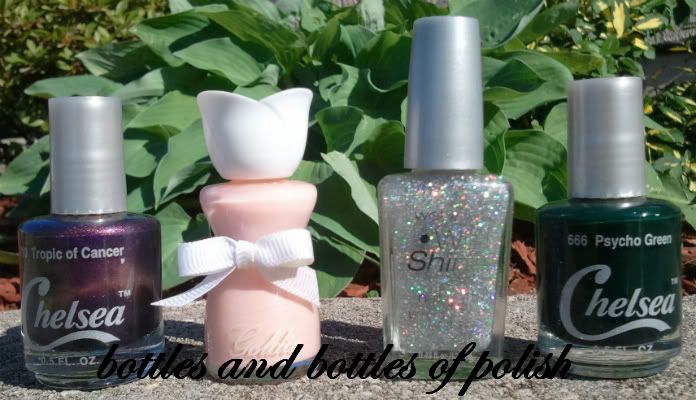 This giveaway will include the polishes in the picture above. Chelsea Tropic of Cancer (duo chrome), an unnamed Goldie light pink, Wet N Wild Kaleidoscope and Chelsea Psycho Green!
The winner will be announced in next week's Way Back Wednesday post which will feature the item you are guessing the year of in the picture above! The year will also be revealed!
Thank you so much for reading and make sure to add your guess to the comments section of this post!