OPI Hollywood Blonde has been in my top 20 since I first wore it. It may not be from as far back as some of the other WBW polishes- it's from the 2007 Holiday collection- but it is dc'ed, at least kind of old -and should've been added to the core collection, in my opinion.

There have been times that I've looked at an OPI in the bottle and thought 'Wow! Look at how gorgeous that is- look at the depth!'. Then I put it on with plenty of excitement, ready to ooh and ahhh - but... it doesn't wow me at all, and disappointment sets in. Perfect example? La Boheme- that was a definite disappointment. AMAZING in the bottle: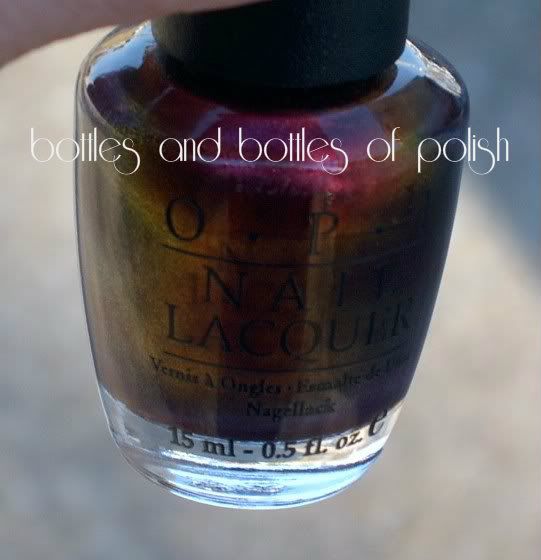 *This isn't even a good picture!*
but so boring on the nail- (I know people speak of different versions, I've had both, I'll save those details for another post- maybe next week's Way Back Wednesday- because I have plenty of opinions when it comes to this polish)
Hollywood Blonde was pretty in the bottle but I wasn't 'wowed' by it right away. Until I put it on.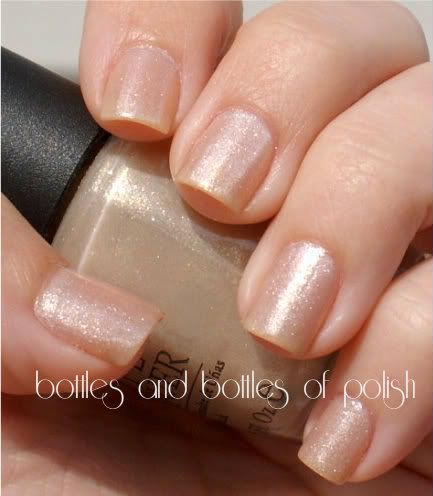 It's the perfect neutral polish to me. It'll go with pretty much whatever your pedi is and works for any event.
The reason I chose to feature this polish today- I had my step daughter's graduation this weekend. I sat and swatched a bunch of light to medium - browns/tans/nudes trying to pick the perfect polish to go with my dress and shoes without being over powering. I ended up going with Jessica Flutter. Flutter worked nicely and didn't stand out too much which is what I was going for. Then today as I was looking through my photobucket account, I saw this polish and realized it would've been perfect- because it's always perfect when you are wanting a soft, classy look that isn't boring. I'm guess this is in my nude/sheers drawer, which is why I didn't think of it- I only looked in my browns/golds drawer. I think I need to put those drawers right next to each other- maybe even put a note in my brown draw reminding me to check my sheer drawer too when I'm thinking of wearing a brown.
Now for a peek into my mind...
I over think everything- or close to it, seriously. The longer you follow me, the more obvious this will become. If you knew me in person, you'd figure it out pretty quickly.
For a long time, I sorted all of my polish by brand.
I kept wanting to go by color but everytime I'd try, I'd get to the China Glaze drawers and my brain would stop me dead in my tracks. 'NOOOOO!!!! They HAVE to stay together!' my brain would scream at me. So I'd end up putting everything back (usually I'd have only finished sorting the OPI's by that point) and by brand they'd stay.
I finally decided right around new years this year I was
going
to go by color, no matter what my brain said. As usual, I started stressing when I got to the China Glaze drawers (I have a very large China Glaze collection, full of old collections that I don't want to separate) but this time, I told my brain to shut up and go find a new hobby, (at least for a little while) and just kept going.
When I was about halfway through my collection, I guess my brain finally realized it wasn't going to stop me this time so it gave in and found a new hobby! And what was that new hobby, you ask? Thinking out side the box! (yay! -maybe my over thinking paid off for once?) Why
couldn't
I sort the
other
brands by color and leave the China Glaze polishes together? It's my collection, I could sort it in whatever way I wanted- and that's just what I did. I started to feel the same stress when I got to my High End polishes (in comparison to the size of my collection, I don't have many high end polishes) so I left those the way they were as well.
Here's a (very detailed) description of how my collection is sorted now:
Red
Pink and Maroon/burgundy (they didn't fit comfortably in my one red drawer)
Pink
Orange/Yellow
White/Nude/Sheer
High End
Green
Teal/Blue (same reason as the maroons)
Blue
Purple
Gold/Brown
Black/Grey/Silver
China Glaze (multiple drawers)
Shatter/ Duo/Magnetics
Nail Art/Flakies/Lynnderella
Glitters:
Black/Silver/Soft
Gold/Red/Orange/Pink
Green/Teal/Blue/Purple/Multi
Franken supplies/Swatching wheels/Salon Effects -(I buy these up when they are on clearance, they are great for pedis!)
Top Coats/Base Coats
Tools
Now, because I am always curious, some questions:
-For those of you that have a lot of polish and you are trying to find the perfect one for a special occasion, have you found any certain way that helps you from forgetting all of your options?
-How do you have your collection sorted? Have you changed the way you sort your collection over time?
Please let me know in the comments, I love to hear (read) your thoughts!