I'll start off by saying that purple's not a color you'll see on my nails often. Not because it looks bad on me- it actually looks really good on me! Maybe one of the best colors with my skin tone. I don't know why I don't like it. I love it on others! I also have a ton of purple polish for someone that doesn't like it!

One reason I have a lot of polish in general is because when I first started collecting polish, I would buy a polish with the thought that my mom- or one of my sisters- or one my friends- or my daughter or step daughter- or one of my daughter or step daughter's friends- might like the color. SMH. That pretty much meant *any* polish belonged in my collection for one reason or another. :/ Once I stopped buying like that (and I did, thankfully)- I bought a lot less polish.

In 2010, there was a nationwide call to wear purple on October 20, in honor of 8 (though some sites said 6 or 7) homosexual teenagers who had recently committed suicide and also to raise awareness of the need to do more to try and end bullying among kids and young adults.


I wasn't really going anywhere that day but it was still something I wanted to do. There are so many reasons bullying occurs, and my reasons for wearing purple that day had to do with all of them, just as much as in honor of those teens and their families.
I wanted to wear a holographic polish and chose OPI DS Original. In a hope to make it darker, I layered it over Finger Paints Icy Iris, a dupe for OPI Visions of Sugarplum and I've read even a dupe for Zoya Valerie -and if it a dupe for the Zoya, that is great for any of you that may be wanting it because both the Finger Paints and the OPI are discontinued. I think it was a great choice for making it darker and even gave the beautiful holographic color some added depth.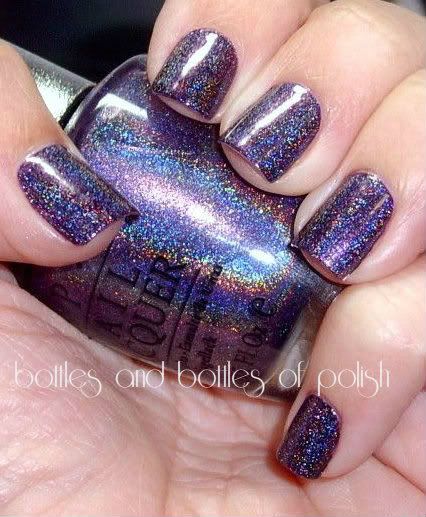 This picture above was taken under an OTT light at night, so excuse the harsh lighting but it really showed the true beauty of this! I think it the combination was gorgeous on it own, yet somehow I made the decision to to add to it again. So then I added 1 coat of Nfu Oh 51. Absolutely amazing. Because of how strong the holo is in DS Original, it shined through the base of the Nfu Oh.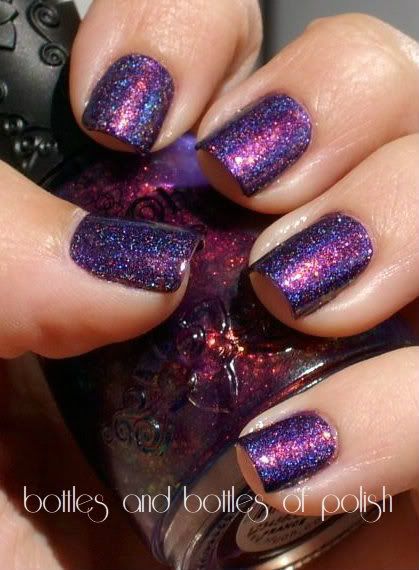 I don't think I've ever found a better combination of polishes. The sheerness of the Nfu Oh base allowed both the depth of Icy Iris and the holo of DS Original to shine through, with the mulitchrome flakes of 51 scattered about.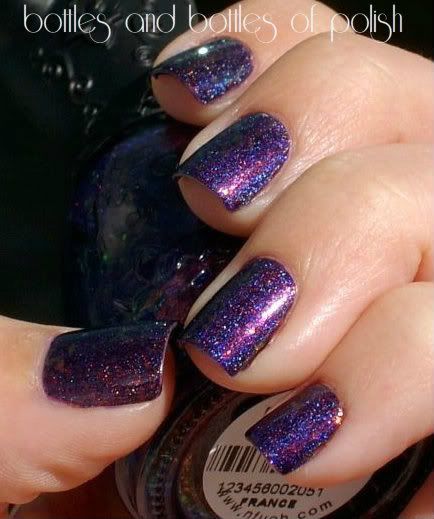 In this picture, you can see the flakes prominently on my thumb, and even see some of the green on my thumb, in the bottle and on my index finger as well. I don't remember if the 2 pictures above were taken outside or inside but my guess is that these were taken under the OTT lamp as well from the backgrounds.
This isn't a great picture but I decide to share it with you just to show you how much green shines through as well. I remember doing a friend's nails one day, I was wearing Nfu Oh 51 and she asked me if I was wearing 2 different polishes. She said one hand she saw the purple and the other hand looked blue and green. It was just the way my hands were sitting while I was polishing her nails but it was interesting that the difference was that dramatic to her sitting across from me. :)
What do you think of this combo? Do you like to layer polishes? What's been your favorite combination?