I love holographic polishes. I like linear holographic polishes more than scattered holos- in other words, the more rainbow you can see and the brighter that rainbow is, the more I like it.

I know that there are plenty of swatches of Layla's Flash Black around. So I decided in addition to my swatches, I'd compare it to (what's usually referred to as the best version of) My Private Jet by OPI as well for you!

With the Layla Holographic polishes, you don't need to use a base coat and they have made a file you can buy separately, to buff your nails before application. I don't have strong nails, so I prefer not to buff them. I used the Jessica holographic base coat instead. I wish Jessica would make the base a core product- because I love it!

In the pictures, there are two coats of Flash Black over the Jessica base.

I did not use top coat on either polish.

Every top coat I've tried dulls the holo in my opinion.

I know some people add a top coat, then another coat of the holographic polish they are using, to try to make their manicure last longer but that still dulled the holo, at least to me, so if I include this step, I use another coat of the base coat in place of the top coat. I didn't do that here, that's just a tip if you have tried sandwiching and still noticed the difference.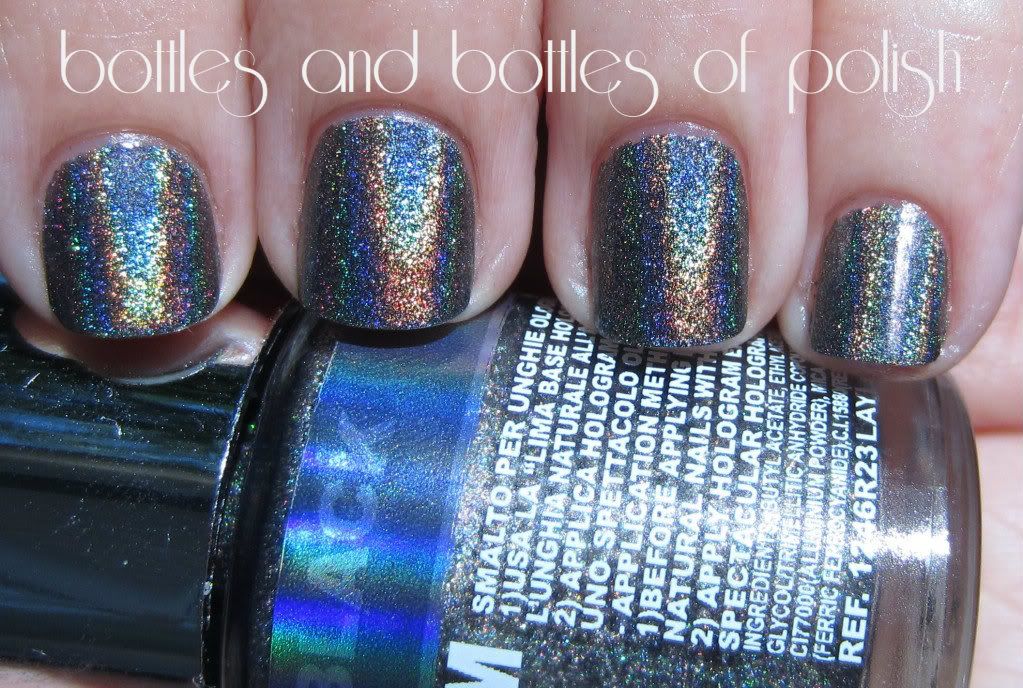 I took so many pictures of this polish, I won't add them all though. You would get bored, I promise- it was really that many.
I realize the picture above gets a bit blurry but my nails
look like they are on fire
, so I had to share it! ;)
Here's 2 coats of MPJ holo over Flash Black on my index nail, with the others still the same.
While My Private Jet is darker, and very holo, Flash Black blows it away to me. While I'm not sure I was able to fully capture the holo of MPJ, I do think I was still able to give a good idea of the differences.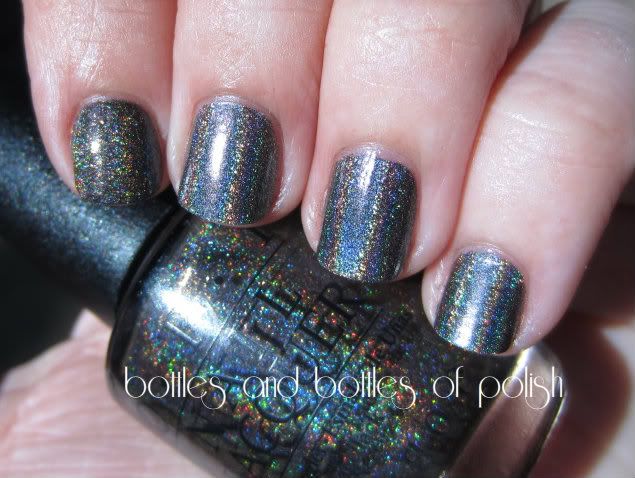 This was easily the most holographic picture I got of My Private Jet and while it seemed like it wasn't letting any of the holo from Layla through, I can't be sure.
Since I can't seem to stop myself throwing in some odd angled, terrible looking picture to just about every post, here it is! ;)
So which do you prefer?
Do you have both of these polishes?
If not, did this make you want My Private Jet more or quell your thirst for it?
Do you like linear or scattered holos more?
Share your thoughts and answers in the comments, and thanks so much for looking!!