I love comparisons! They can save me- and you- so much money! They can stop you from buying a polish from the latest collection because you see it's just like one you bought 2 years ago- or it can give you an option to buy a polish for a fraction of the price of the other - today's post and this post are both examples of the latter.


These were very quick swatches- I don't think I used a top coat or even a base coat. I believe they were both only one coat polishes (woo hoo!) - I may have done 2 for good measure, I don't remember.

Rescue Beauty Lounge Orbis Non Sufficit and Avon Olive Green- looking identical: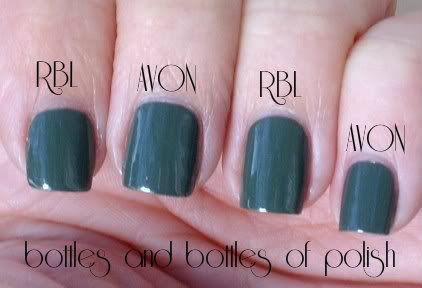 Can you see a difference?
Both polishes have a fantastic formula in my opinion, along with great pigmentation.
Look how shiny they both are!
At the time of this post, Rescue Beauty Lounge Orbis Non Sufficit is still available on the Rescue Beauty site
here
. I didn't see the Olive Green on the Avon site, but I did find it on
Ebay
and it's still cheap!
Had you heard 'Orbis Non Sufficit' before this polish? I didn't (Does that mean I've lived under a rock?) and was curious- so here's what I found out when I looked it up:
-Translated from Latin to English, the phrase means 'the world is not enough'.
-"The World Is Not Enough" is the name of a James Bond movie.
-It was the motto for Sir Thomas Bond, the best known supposed ancestor of the fictional James Bond.
-Sir Thomas Bond was real person, from Peckham, a district in south London. He was baronet- which is a member of the British order of honor.
-According to Wikipedia, the well known Bond Street in London, is named after him.
There ya go- if you didn't know that, now you do! Who knows- it could even help you someday- in a drinking game or something...
Do you have either of these polishes? If so which one or both, and do you like it/them?
Have you learned anything new today? Tell me about it in the comments! ;)