I am so stoked!!! (is that word still in? I am always wanting to use it when writing but don't know if I'll sound like a total dork for using a word that no one.ever.says.anymore.ever.) Cosmoprof North America 2012 is only a few days away, I am covering it again this year and now that I know what to expect, I am so much more prepared! My schedule there is filling up nicely and I *cannot* wait to share all the things I see there!!!!!!

Since I have a billion things to do, I'm just going to share a quick NOTD with you. I have a plum lippies post almost ready also though, so check back for that!

When I opened the Jessica Gelato Mio Collection, this was the polish I immediately told myself wouldn't work on me.

I'm worried now though. I'm not sure if I thought it didn't look bad on me because I have a tiny bit of a tan or if I'm losing perspective. I really hope it's the tan. I don't want to start thinking polishes that look hideous with my skin tone look fine.


These picture are not really accurate, it's a tiny bit more dusty and a bit more green than the pic shows. It's not an easy color to describe though. It's not a light blue, but it's not a mint green either.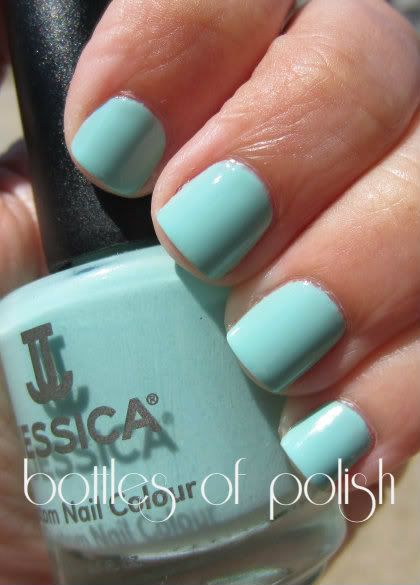 Before I was a polish head, I knew immediately whether a polish worked on me or not. Slowly that's changed and while there are some I still know look terrible, it's pretty rare for me to say, wow, that is the perfect color for my skin - where before it was just obvious to me.
The formula on this polish was really good. I didn't experience any dragging or flow problems and only need 2 coats. I am also always surprised at how shiny Jessica polishes are.
Do you feel like you've lost that sense of just
knowing
a polish was a great color for you or did you never really feel that way in the first place? Check my Facebook page for more questions on this subject also!