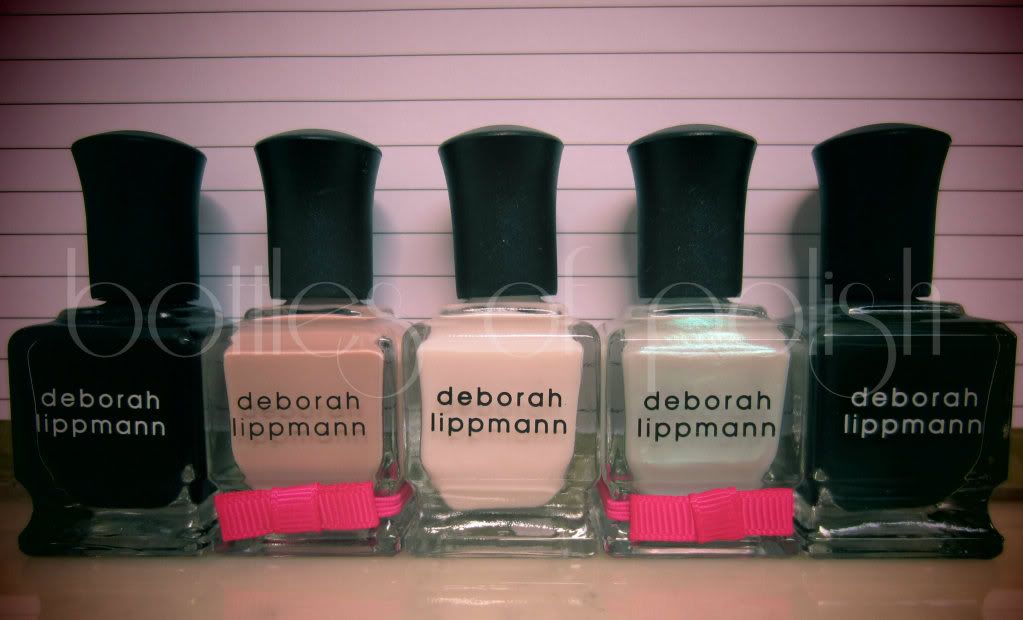 At your local TJ Maxx, Marshalls, Beauty Brands or Winners.
My nail polish collection stabilized
*cough*
quite a while ago, so I don't buy much polish anymore, unless-
A polish comes out that is

like no other polish in my collection (and I like it)

.
or
I find a deal that is too good to pass up.
This post falls into category #2.
Because I don't like to waste gas or time, when I have to go somewhere I normally don't, I hit as many places as I can on the ride there or back. Friday, I had to go 40+ minutes away, so I had a good excuse to stop at TJ Maxx - and Burlington Coat Factory. I didn't find any polishes I wanted at Burlington but I did find 4 shirts- 3 were marked down from the already cheap Burlington price- a couple were $2.98.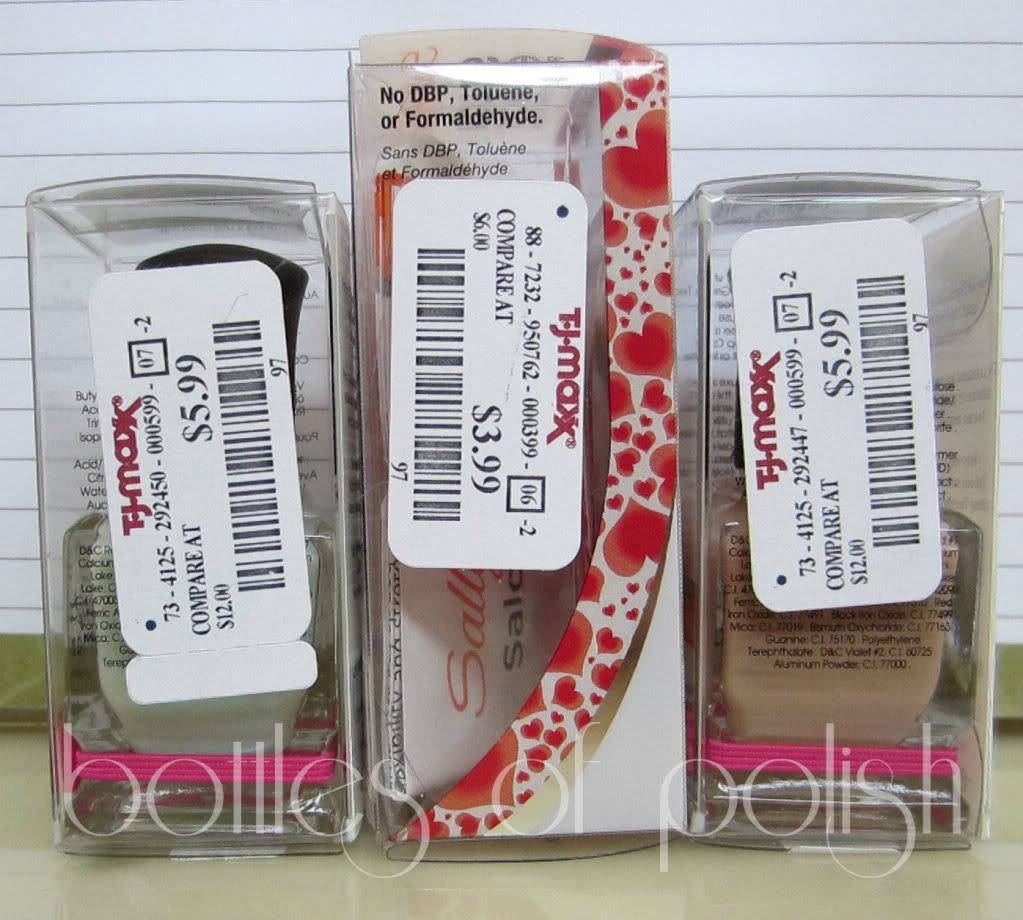 These Lippmann's have the little pink bows because they were from Juicy Couture. Naked has been released, re-released and re-released some more- it must sell well. I've never seen Pearly Queen before, so I'm not sure if it was previously released or not.
The Sally Hansen Salon Effects were part of the Limited Edition Valentine's Day collection, meaning if you missed out on any you wanted, the time to start stalking is now.
The next morning, I stopped by Beauty Brands to see what had been put on clearance recently.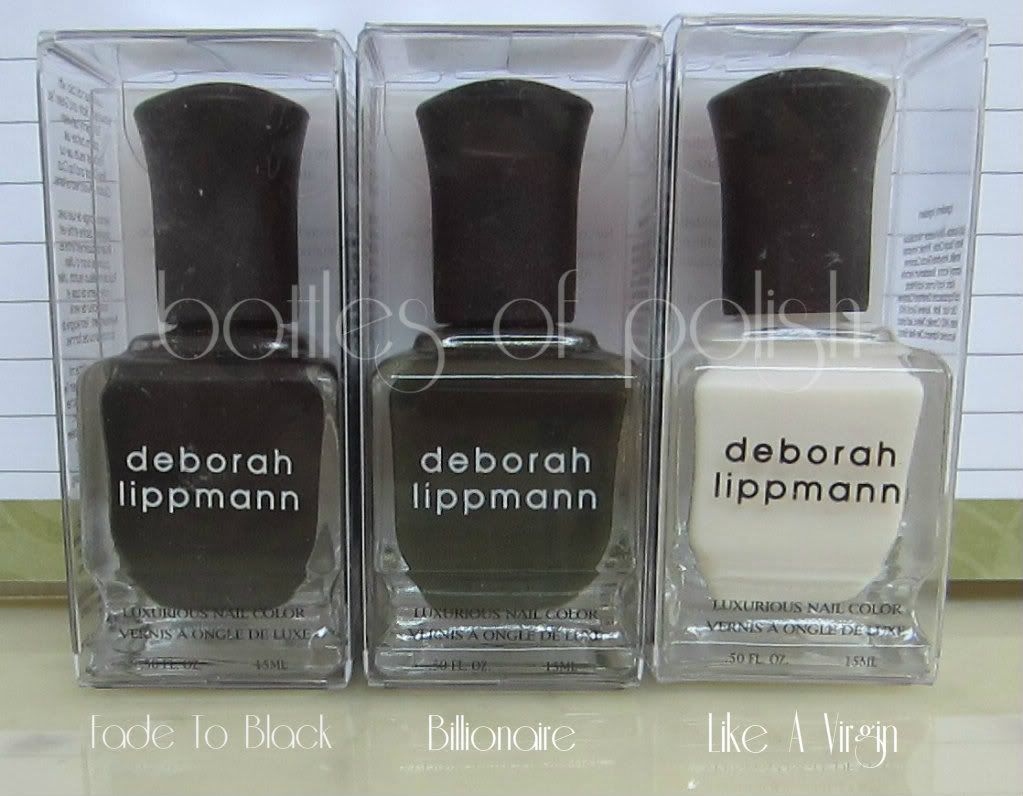 Fade To Black is a black creme, Billionaire is a very dark green creme and Like A Virgin is a stark sheer white.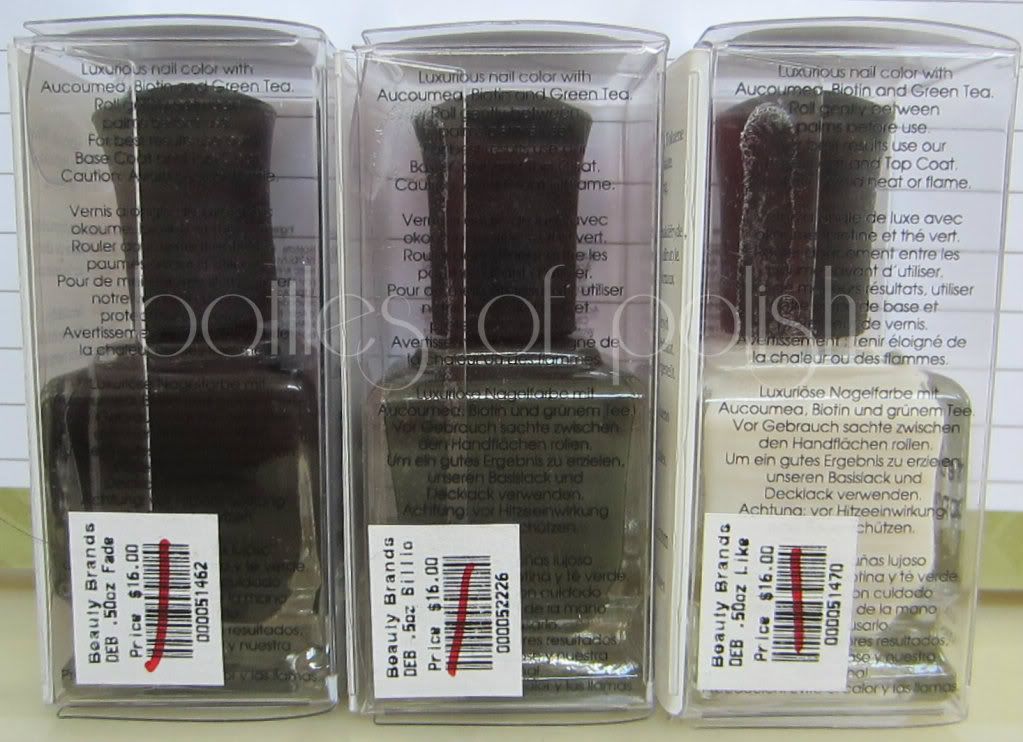 65% off. Great basic colors, not a bad price and the bottles are so pretty! I can add them to my Deborah Lippmann display. I'm actually not kidding- look:

The Lynnderella polishes came down right after I took this picture, I was just trying things out and I took the picture to text some friends to show them how my room update was going. The Lippmann's are still there. I know I shouldn't have my perfumes sitting out (that's not all of them btw) but they look so pretty and pretty's what I needed at that moment. How do you store your perfumes? How about your polishes?
Here's how the deals broke down: $11.98 at TJ Maxx, $17.88 at Beauty Brands = $29.86 for the Lippmann's, then $3.99 for the Salon Effects bringing the grand total to $33.85 plus tax. What do you think? Is this my best deal ever? Probably not. Good enough to share? I thought so. What do you consider your best deal? Are you a deal hunter? Are you going to go looking for Lippmann's or Salon Effects after seeing this?
P.S. Cosmoprof North America 2012 starts this Sunday and I will be there- so you need to be here, on my facebook fan page, and on twitter (links to my Facebook page and Twitter are at the top of the site on the right). I will have tons of pictures and information about new collections along with what's in store for hair, skin, make up and polish over the coming year!!!