About a month ago, I was given the opportunity to review the Karmin G3 Salon Pro. Being a curly haired girl, having a wavy/curly haired daughter and 2 curly haired sisters, I love trying new straighteners.
The flat iron came in a really nice box that I have already used for other things. It also came with the heat mat pictured above, a zippered case, instruction manual, warranty card. It comes with a 3 year manufacturer's warranty.
Here's the features of this iron according to Hair Products Pro:
Karmin Salon Pro Features:
-Advanced 100% Pure Tourmaline Ceramic plates.
-Professional grade heating element for flash quick heating.
-Negative ions and infrared heat (removes static) for silky shiny hair.
-Ion field technology (seals in natural oils).
-Variable temperature settings for all hair types. From 80°C (176°F) to 237°C (460°F).
-Tangle-free 3 meter, 360° swivel cord.
-Drop Safe Technology.
-Worldwide Voltage 100-240V - Use your styler in any country.
-Anti-Slip edges.
-Slim Handle Design.
-Automatic sleep mode - Auto shut off after 1 hour.
-Floating plates.
-Won't damage hair like other straighteners.
-Straighten, curl, flip and style your hair.
I have heard that some girls automatically go to the highest setting on their flat irons. I strongly urge you not to do this. I'll put it this way to start: would you turn your stove straight to high every time you cook something?
What I recommend: If you've never used a flat iron, start at the lowest setting and go up about 10 degrees at a time until you find the right temperature for you. Generally, the more course the hair, the more heat it needs. If your hair is damaged, you should try and stay at a lower temperature. Also, finding the lowest temperature that will work for your hair makes your hair look better as you flat iron. A lot of times, if the iron produces a line or 'crimp' in the hair, it is too hot or it snagged and wasn't able to slide down the hair properly.
*Disclaimer-
I am not a trained cosmetologist or hair stylist- I am just very careful with my daughter's hair and my own- my own hair does not grow fast so I research everything I can to try and prevent unnecessary damage while still styling it ways other than curly when I get bored or need a pick me up.
;)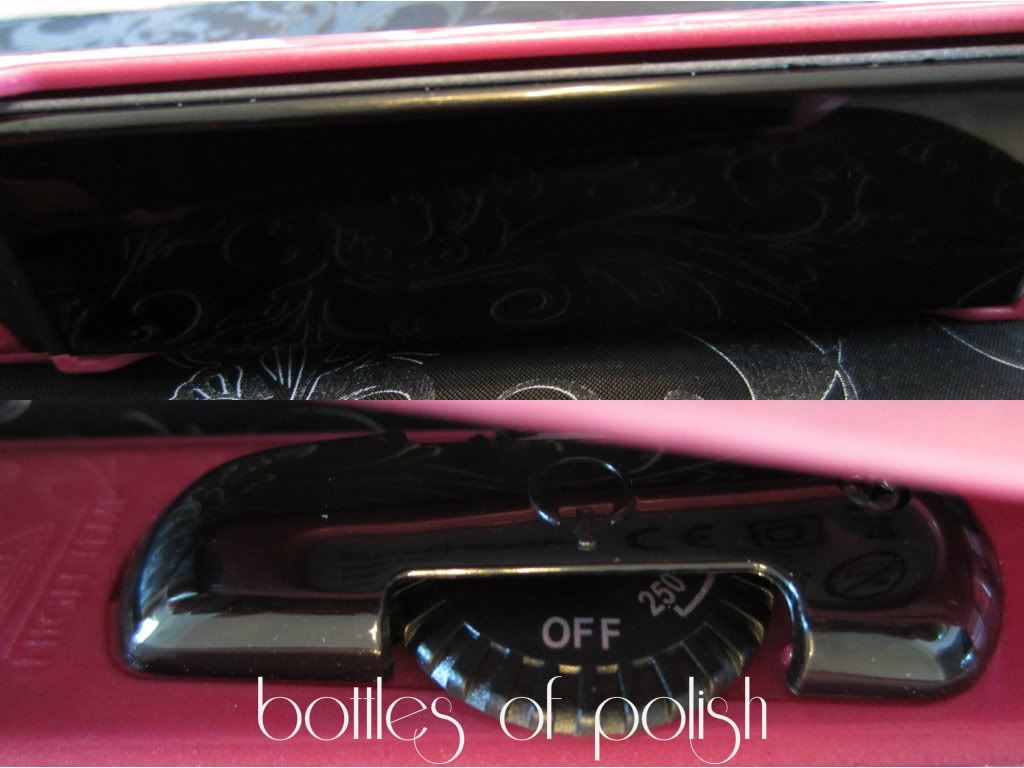 Very shiny smooth plates and a nice temperature dial. I like that the dial is covered the way it is, possibly preventing accidental temp changes.
My daughter let me use her as my model for this review.
Here's her hair with no product before starting: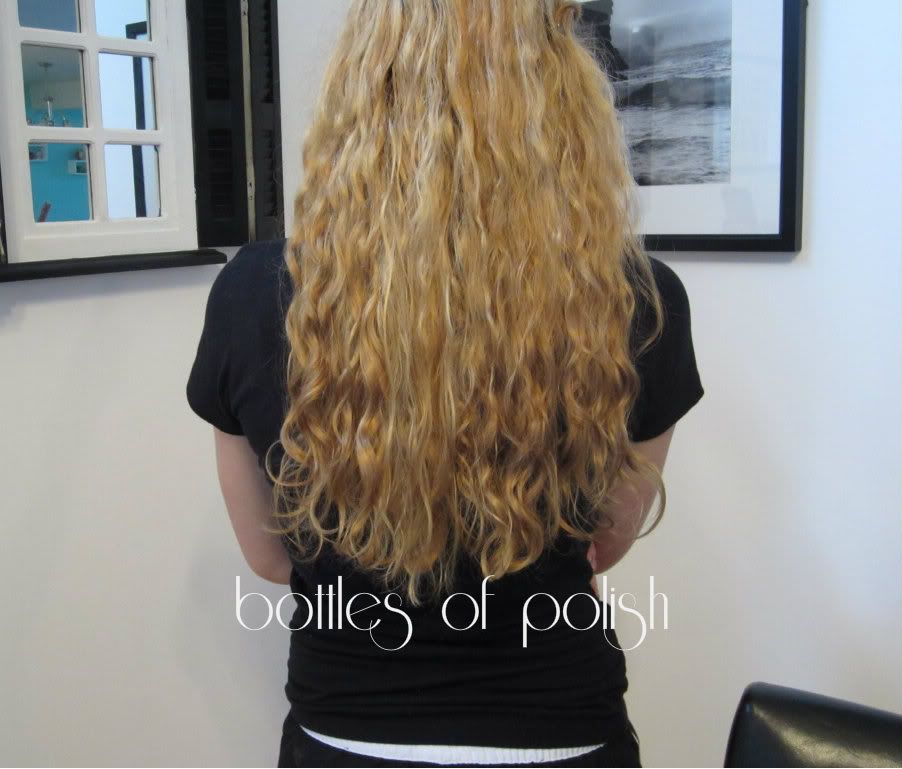 When she stood up for me to take the first picture, the king decided the chair she was sitting in looked like a good spot for a nap. She was only up for 1 minute-ish? hah. When I finished taking the pictures I sd, 'Okay, turn around.' She didn't know what I was going to show her but when she saw, she immediately wanted me to take a picture:
My daughter has a lot of hair. I used a heat protector, straightened one side and curled the other with the iron to show what it can do.
It does automatically shut off after 1 hour. I noticed this because when I got to her bangs, it wouldn't straighten them all of a sudden. (I turned it on early- it didn't take me an hour to straighten half of her hair!) I to turn it off, unplug it, plug it back in and turn it back on.
Do you see these curls?
Gorgeous and SO shiny. These are completely untouched after curling so I could show you exactly what it did.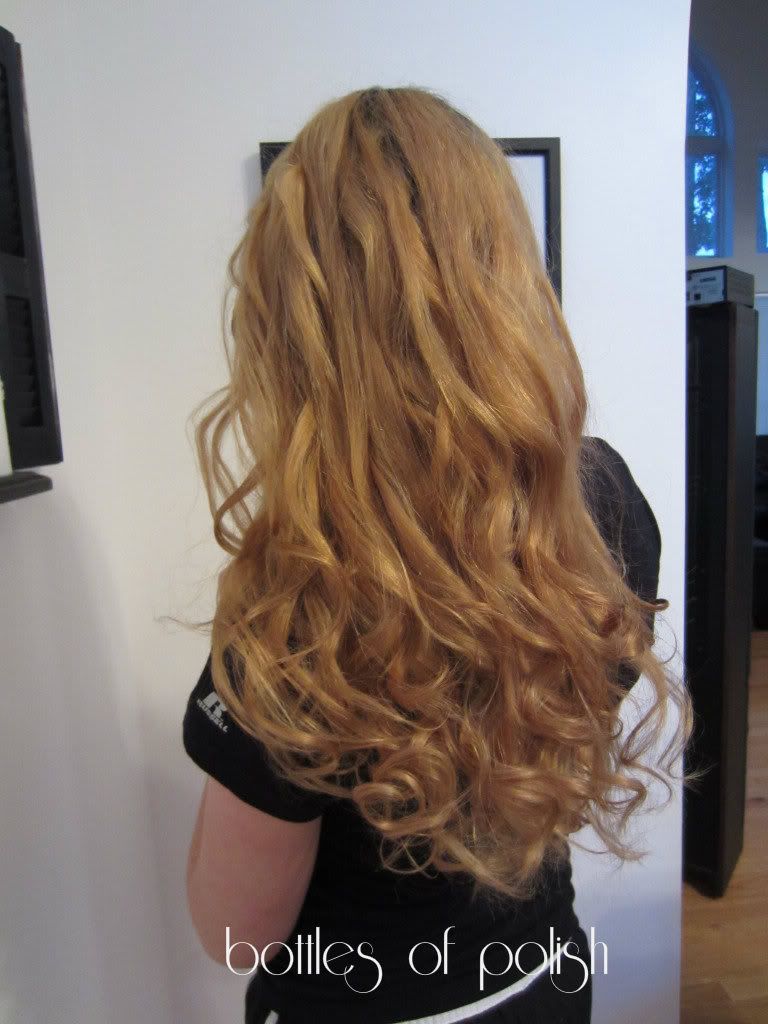 Here they are after a bit of finger combing. I would have worked with it more but she had me restraighten it afterwards. I would've chose the curls but she wanted nothing to do with them. Ugh!
I really liked this flat iron- I can honestly see myself using this flat iron anytime I plan on curls or waves.
You can get this on sale right now on
Hair Products Pro
and I would highly recommend doing so if you like curling your hair. Check them out on
Facebook
also!