China Glaze Grape Crush. From the Platinum Collection released in 2001.

I don't like purple nail polish- yet I have quite a few. Confused? Read on.

(Rambling alert) I think I've mentioned this before, but I'll share it again- when I started collecting polish, I would collect for everyone. When I say everyone, I mean I'd buy a polish because I'd think of someone that might want to wear it if they came over and I did their nails. I don't do that now- and I buy a lot less polish because of it.

Also, my polish collection is kind of unique. I'd guess that a majority of the polish I own would be difficult to replace if I got rid them.

Some would require a large amount of money to replace if I had remorse, others- quite a few others, would be very close to impossible even if you were to take money out of the picture.

So while I have probably gotten rid of as much polish as I've kept, there are some I keep because if I changed my mind, I'd be out of luck.

Lastly- and above all, why not? It's my collection. :)
(Rambling over)

Polish picture time!

The exception to my purple polish disliking?

China Glaze Grape Crush

Maybe because it's such a dark purple with a hint of plum to it when it's on? Maybe the micro holo glitter takes it over the edge for me? My guess is the holo glitter but I don't know for sure.


I did 3 coats for this manicure. It didn't need 3 coats at all, I just get carried away sometimes. The formula on this polish is phenomenal and it's quite pigmented.
Look at how the micro holographic glitter pops out of this polish. I mentioned at the beginning of this post that is from the Platinum collection. This collection had some amazing colors in it. I will have to share more of them soon! Colors like Rapture, Crystal Ball, Dusk (just because I don't like purple polish doesn't mean I don't have an appreciation for them!). You can learn more about the colleciton on the China Glaze Wiki Page-
just click here
!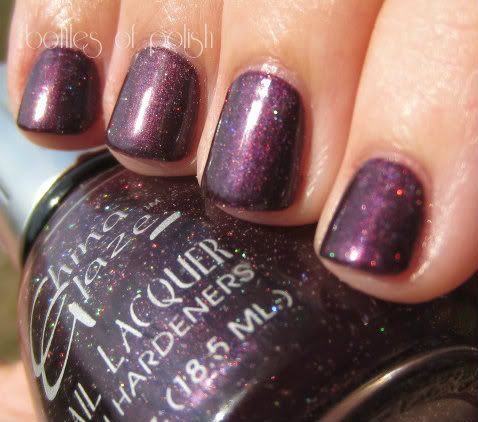 I love the shimmer in this polish and I'm not big on shimmer.
Overall, I'm completely confused by this polish. It's purple
and
has shimmer - 2 things I don't like - yet I love it.
Do you have any polishes that are like this for you?
Are there any certain colors of polish you don't like?
Are there any certain finishes you don't like?
I really do want to know the answers to these questions! :) Please share!!!! Don't be shy!!!! It makes my day when I get to learn things about others. I am a want to know everything kind of person. I'm always curious.
Do you like this polish?
If you don't have it in your collection, at the time of this posting, there is a polish on Forever 21's site called 'purple/multi' that is either a dupe or at least a decent substitute I believe- especially instead of paying ebay prices. Let me know if you have this, want it, are going to get the F21 version, or if you have the F21 version, please comment how it compares because I'd love to know and I'm sure others would too!