I have a lot of interests and like to collect things. (I don't like clutter though, so I limit myself and have to have homes for things!)

The post is a little long but I tried to keep it short- for real!
Before I collected nail polish, I collected makeup. Before I collected makeup, I collected a few other things. I like old things (note: Way Back Wednesdays). I go through phases. When I enter my next phase, it doesn't mean I fall out of love with whatever I was collecting before, it just means I found something new for a bit.
How does that girl scout song go? Make new friends but keep the old, one is silver and the other is gold?
Is that even a girl scout song? or is that just where I heard it?
Anyway, a couple weeks ago, I stopped at a local thrift shop and I found this: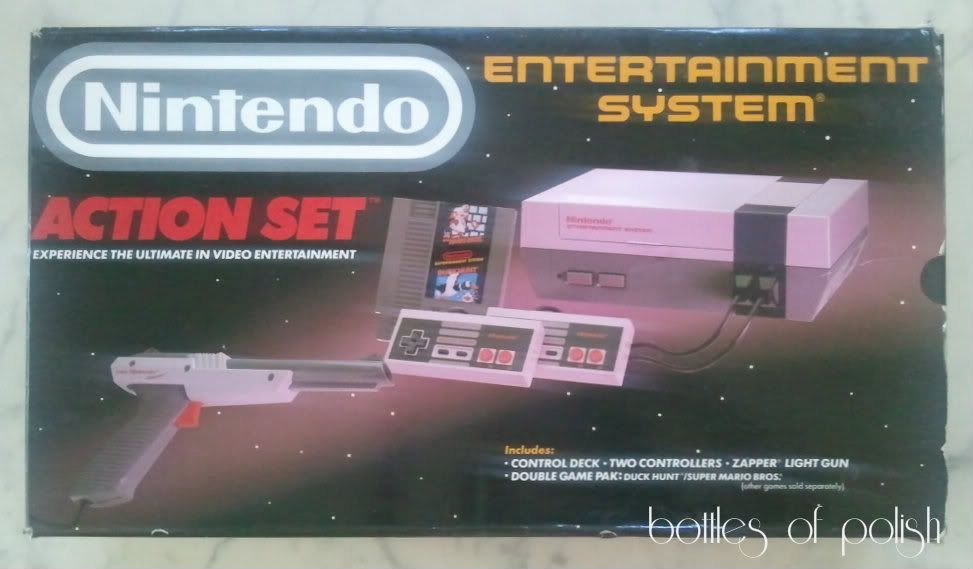 (phone pics so excuse the glare) It reignited my passion for my games a bit- the passion never really died, I just hadn't had time to enjoy them. It had all the original papers, the zapper, the console and the controllers (the console and controllers looked like they had been loved- a lot) in the original styrofoam.
I knew I already had 2 Nintendos at home- (turns out I have 3- I found another a day or so later when I went in the basement to look for something). They didn't work and one with the original box was sitting in front of me- for $20 bucks!
I caved. How could I not? I mean seriously- look how much fun they're having! (Plus- if I could get to be the kid in the blue shirt, I'd have a really good chance at beating the kid having to play the game from a total side view)
I love old systems. That night I decided to take one of the nintendos apart, and clean the 72 pin connector that is what makes the games work. Unfortunately, the one I decided to take apart had something spilled in the pins- I can only guess it was molasses.
So I took a second one apart. Cleaned those pins. Left both systems open and struggled with putting the connectors back on to see if they'd work.
I read that 95% of the time by cleaning the connectors, your system will work like new if not better. Neither worked for me. So 2 of my systems were in that 5%? Just my luck.
At 3am, I went to bed, (after someone ding dong ditched us for the first time ever- the same night I'm up super late- how odd is that?) tired and temporarily defeated.
The next day, I decided to look on Youtube to check if there was something else I should do- even though I was feeling like it was a bit hopeless.
A guy on Youtube said I should go in and lift all the pins because over time, the games had pushed them down and the necessary connection was no longer being made. At the end of the video, he gave his thoughts, and they went like this:
the systems are old, the warranties expired years or decades ago, so you can't lose anything by trying to fix them
if you can't fix it, that's wussy talk- fix it anyway.
Well, I was already aggravated that my games were not working, so at that point, being called a wussy didn't sit well- but it's also probably the only reason I went going that day.
I also realized during this process that all my games needed to be cleaned. Once I lifted the pins and cleaned the cartridges (alcohol and qtips) tada! FIXED!
We did a lot of work on our house over the past week. Check out my new game room (aka our sunroom):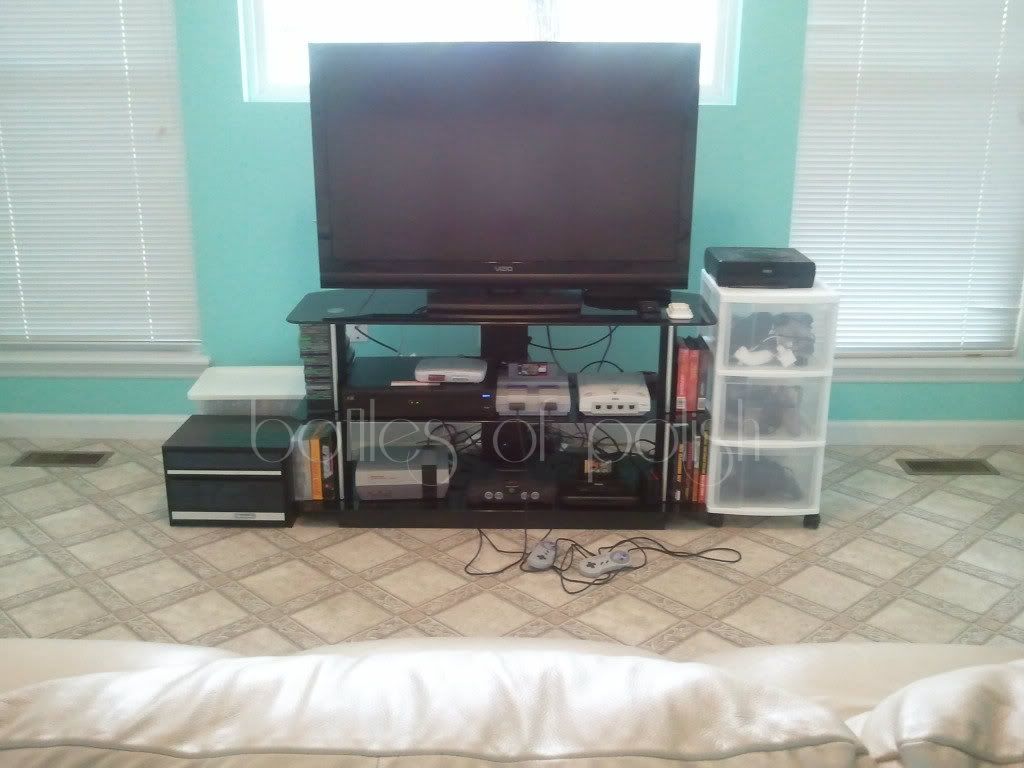 Hiding wires for this many things takes a lot of time. It wasn't as bad as it looks and I had already spent about 3 hours on the wiring at the point this picture was taken.
Also, see the little white thing next to the tv? That is a remote for the super cool surge protector I picked up at Home Depot, which turns off all power to the systems when they are not in use, while keeping power going to the dish and the tv.
I've wrapped all the wires now and have an AV switch that detects which system is on and switches to it automatically.
I know there are emulators I could get to eliminate having so many systems. I also know there are game systems now that will play NES, SNES and Genesis games. For me, half the fun is taking the old systems apart and making them work again. Plus since I like old things, I can't bare to replace them with something else.
Systems in the picture: Nintendo, Super Nintendo, PS One, Nintendo 64, Sega Genesis, Sega Saturn and a Sega Dreamcast.
Finding organizers for all the game cartridges has not been easy. It seems that there were not many made for each system. I did get this really cool Nintendo game and controller holder on ebay, with 12 games, a controller and another zapper, cheap- I cleaned it up and look how nice it looks: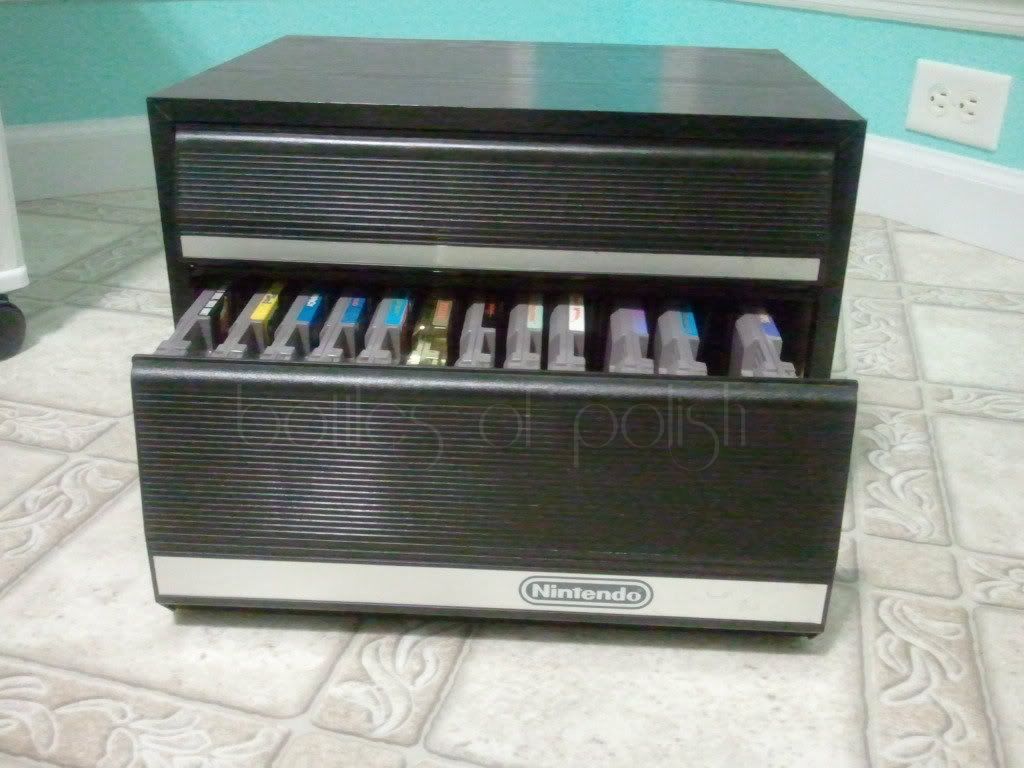 Shiny, huh? After a Magic Eraser and elbow grease, Pledge Orange Revitilizing Oil is so so good.
I love all my systems. I wish I had more time to play them and someday I will!
Since this post focused on the NES, I'll share my favorite game for it- Clash At Demonhead. It's one a lot of people have never heard of. My opinion: if you have a NES, get it.
Do you like old video games? If so, what was/is your favorite system?
Do you have a favorite NES game? If so, what?
I purchased all items shown myself. Nothing to disclose.