October is Depression Awareness Month.

Depression is what has contributed to my recent absence. Not my own, but people very close to me. I haven't decided how or if I'd like to discuss the personal details but I will be covering this issue in detail here over the never month because it is very close to my heart and the more it is discussed the better.

Depression and anxiety. Two common, major illnesses that affect so many people around the world.

There is such a stigma surrounding these illnesses, along with all mental illnesses.

I've suffered from depression and anxiety for most of my life. I didn't even realize what anxiety truly was. I didn't realize you could have it all the time (>you can<). I thought a panic attack was anxiety- in other words, I thought if I wasn't having a panic attack, I wasn't anxious.

I know my blog is all about beauty- beauty is on the inside as well. Depression can be so debilitating that it's hard to even shower for some (especially if they don't have to go to work or somewhere) let alone think about wearing makeup or painting their nails. It can be hard to even get out of bed.

I don't wear green polish very often but I do have a picture of one I can share with you. Green is the color associated with Depression Awareness Month. -I say wear what ever color make you happy- because that's what this is all about!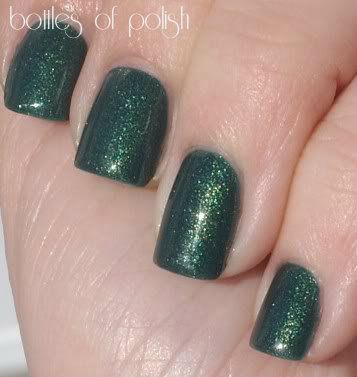 Beautiful polish with great application. Canadian Exclusive Sally Hansen Salon Project Runway
There are many factors that can lead someone to feel depressed or anxious. Often, there is a biochemical imbalance in the brain. Stress or a traumatic event can also lead to problems, along with many other things.
I plan on sharing more information about these issues during the following month.
Today, I'd like to encourage those of you who feel like you could be depressed to set up a screening. You can even do them online. Please share this link with anyone you know who you think may benefit from it.
I found this site which will hopefully point you in the right direction:
http://www.helpyourselfhelpothers.org/
I found it through this page:
http://www.mentalhealthscreening.org/events/national-depression-screening-day.aspx
It can be hard to get help if you don't have insurance but you can also search for 'community resources' to see if there may be any options available in your area.
SUPPORT
Just finding someone to talk to can help as well- even if it is through the internet. If you do try to find support through the internet, please be careful and look for positive support. I know how hard it can be to find someone who will listen. I also know that it's easy to be pulled down deeper by someone going through the same things- especially when you are young and find someone you feel understands you- which is why I specified to look for
positive
support.
EXERCISE
Many studies show that exercise can help with depression because it naturally helps balance the chemicals in your brain. I also know the finding the motivation to exercise when you are already deeply down can be almost impossible- I've felt that way so many times- including right now.
If you can find it in yourself to get up and move - even if it's just for 5 minutes, do it. The more often you do, the more helps. I finally managed to do 5 minutes, for the first time in months, on Tuesday. I haven't again yet but I hope to again tonight or at least tomorrow.
Spark: The Revolutionary New Science of Exercise and the Brain
By John J. Ratey
I purchased and listened to this audio book recently. I found it very informative and easy to listen to. I love to read but never seem to find the time, so I listen to audio books while I'm doing housework- it makes the time go by faster and kind of motivates me to get things done because I get to listen to my books while I'm cleaning! It explains how exercise helps your brain in so many ways- and in plain english.
During this month, the focus on my site will be spreading awareness about depression. I will also have guest posts from other bloggers supporting the cause as well.
If you have any links, thoughts or advice you would like to share with others reading this, please post them in the comments. I'm sure they would be appreciated more than any other comment you could post on any other post on my site.
***I am not affliated with any links I included in this post and the book I mentioned I purchased for myself. I have nothing to disclose. ***