The manicure I'm sharing today, is one I did on my daughter's nails a couple Halloweens ago- (before she became a -gasp- teen - back when she'd excitedly ask me to do her nails for her. She still asks me to from time to time, but she likes to do them herself a lot. *tear*).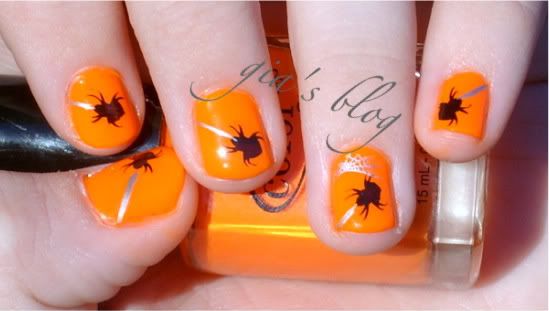 Unfortunately, the orange is a Color Club that came in a set at Ross- and those sets never have names. It's a neon (apparently, the camera I used back then didn't know what neons were), it's a creme, so it isn't Tangerine Scream from the Electro Candy Collection, and it is much more of a true orange than Amp'd Up.




If you have any guesses on what polish this is- (even if you're not sure), please let me know- you can either leave a comment, tweet me (@bottlesofpolish) or share it on my facebook page. Thank you in advance!




For the spiders, I used Wet N Wild Black Creme - the best black for stamping imo- it's super cheap, pigmented and doesn't stain like the Konad Black.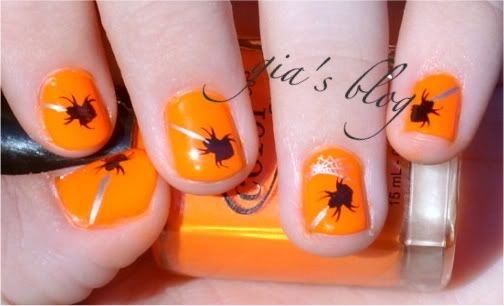 I used China Glaze Millennium for the spiderweb stamp on the ring fingers and Art Deco Nail Art polish in Silver for the each spider's thread.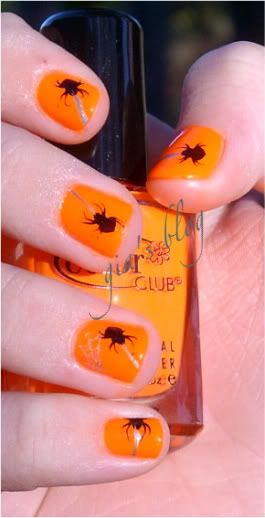 Quick and easy, what do you think? Bundle Monster plate #13 for both the spiders and the web on the ring finger.

Now, the bonus picture for those of you that stuck around ;) It's my daughter, taken over 3 years ago if I'm remembering correctly. I'm sure she'll love it if she looks at this post: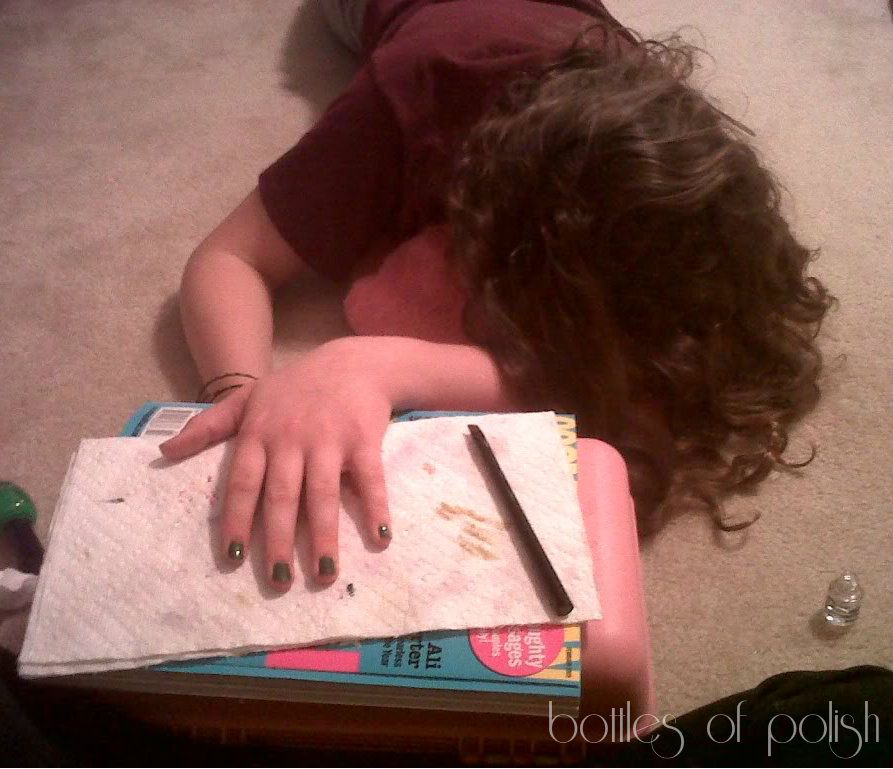 Isn't it adorable??
(pssssst-
I have an equally/ possibly cuter that I may have to share this month as well
.)
She insisted I do her nails that night even though she said she was SO tired. I still remember the color she picked, a super old Milani named Hummer. A green- perfect month for me to share this picture!! And yes, that is a caboodle- don't judge... I love old caboodles.
Do you like old caboodles? Do you still have any? If so, how many and what colors? If not, did you ever, do you remember the color(s)? Did you have a favorite?
If you've followed my site, you'll know I love old stuff and that I
really
do want to know about your likes/loves and even dislikes! If you haven't followed my site, now you know- so tell me your stories!